At Dayspring Christian Academy, we believe it is important to ask questions. Students are taught to seek original and primary sources, ask the question, "why?" and relentlessly pursue truth. Through the Principle Approach, our method of education, Dayspring Christian Academy cultivates a biblical worldview in our students. Because Christ is the center of all knowledge, the curriculum in every grade at Dayspring is unified by biblical truth. From the study of the classics and the world around us, our education goes beyond memorization and recitation applying principled reasoning from God's Word to every area of life. True, biblical education displays the beauty of God's Truth and shapes the core of the individual—his character.
Early Childhood Education
Using the Principle Approach, a biblical method of education that helped to forge our nation, Dayspring Christian Academy offers a refreshing answer to families who seriously desire to launch their child's education that is academically rigorous in a loving and nurturing environment. Dayspring Christian Academy offers 2-day half-day preschool on Tuesdays and Thursdays, as well as 3 and 5-day prekindergarten and kindergarten programs.
Elementary School
Elementary school at Dayspring is called Lower School. Unlike other elementary schools in the Lancaster area, the teachers at Dayspring Christian Academy's Lower School educate with the whole child in mind. While others prepare elementary-aged students to simply improve their memorization and test-taking abilities, Dayspring teaches students how to reason through the content that is presented to them to reach a logical, biblical conclusion and application.
Middle School
We recognize that middle school students are beginning to ask questions—big questions—about the world in which they live and their part in it. Middle school students want to know that they are not alone. So, the middle school years (grades 6-8) at Dayspring Christian Academy are focused on student engagement. We want students to know that their education is their property— a part of them that they will take with them for the rest of their lives. Since we view and teach education as an avenue to know God Himself, a student's educational journey exists to find his or her place of effectiveness in God's Kingdom. This makes education so exciting! Sports offered to middle school students at Dayspring are girls volleyball, boys soccer, boys basketball, girls basketball, and track and field.
High School and Honors High School
Dayspring Christian Academy's mission reflects our commitment to academic excellence and college preparation for our students who desire to go on to college. Often, Dayspring's SAT scores are on average about 100 points higher than the national average. Dayspring high school students can earn up to 30 college credits before graduation through our dual enrollment program with Cairn University and our stellar AP courses. Many of our students arrive at college already having earned a full semester of credits! Dayspring Christian Academy's Honors High School can also be called a "college prep high school". Classes in the Honors High School program are specially designed to meet the needs of academically gifted and high-performing students. Sports offered in high school at Dayspring are girls volleyball, golf, boys soccer, boys basketball, girls basketball, track and field, and girls lacrosse. Through our cooperative sponsorship program, high school students may participate in other sports including field hockey, football, and many others.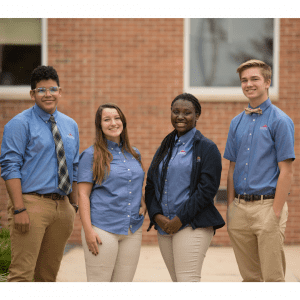 Learn more about Dayspring Christian Academy by taking a tour or joining us for an Open House. Register at DayspringChristian.com/tours or call admissions director Karol Hasting at 717-285-2000.
Follow Dayspring Christian Academy on Facebook, Instagram, Twitter, LinkedIn and YouTube!